Perhaps the most universal Penske shock available, the 8760 is used in a wide variety of professional racing applications. In its standard configuration, the 8760 is a triple-adjustable, coilover damper. The 3 adjustments are comprised of a highspeed compression adjustment, a low-speed compression adjustment, and a single rebound adjustment. The high-speed compression adjustment works with preloaded shims on a piston face while the rebound and low-speed compression adjustments consist of a needle/seat arrangement for a bleed bypass.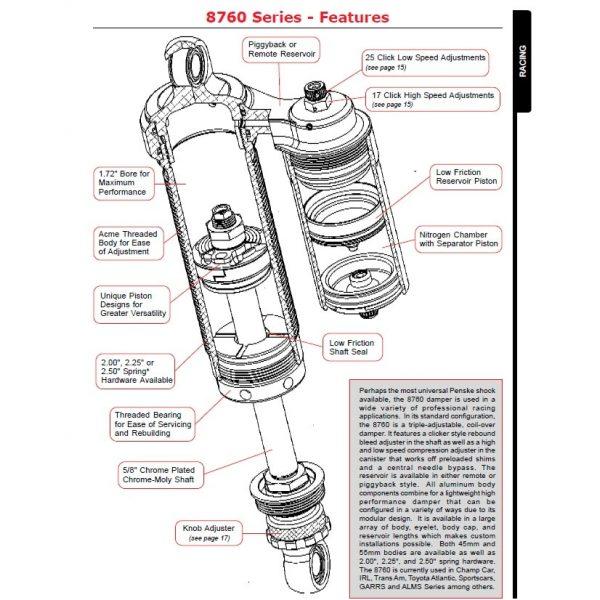 The reservoir is available in either integral (piggyback) or remote style (with a hose connecting the main shock body to the reservoir). All aluminum body components combine for a lightweight, high-performance damper that can be configured in a variety of ways due to its modular design. It is available in a large array of body, eyelet, body cap, and reservoir lengths which makes custom installations possible. Both 45mm and 55mm body sizes are available as well which permits the use of 2.00″, 2.25″, and 2.50″ I.D. springs. The 8760 is used currently in Grand-AM, SCCA, IRL, and ALMS among other series.
The Penske Advantage
Triple Adjustable – 25 Clicks Low Speed Compression, 17
Clicks High Speed Compression, 30 Clicks Rebound
Extended Lengths from 10.0″ through 24.0″ or Custom Lengths
Piggyback or Remote Reservoir
1/8″ NPT, Banjo, or Banjo-Swivel Style Hose
45mm or 55mm Bore Body
2.00″, 2.25″, 2.50″ Spring Hardware
Coarse ACME Thread Aluminum Body
Various Piston Options
Built to Customer Specifications
Custom-Valved for Driver Feel or Chassis Set-Up
Owner Rebuildable
Consistent Performance
100% Engineered, Manufactured, and Hand Built in the USA
All shocks are hand built, so please allow up to 4 weeks for delivery.
RACER'S QUOTES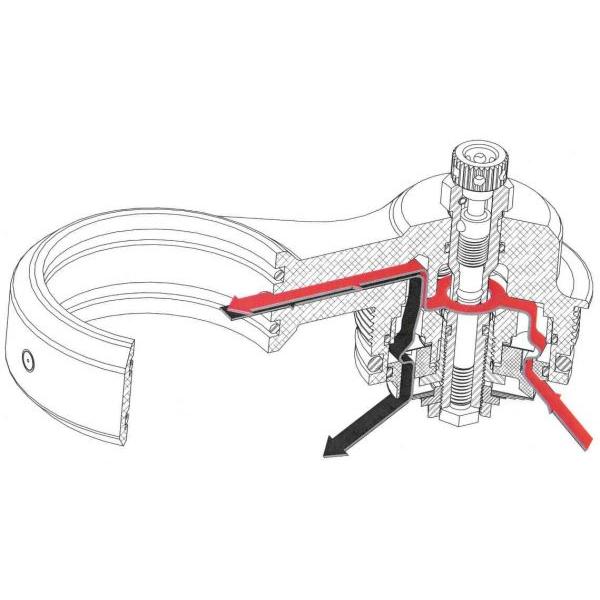 "Thanks to Penske Shocks for their support this year. Being my first year racing in cars, I'm still learning a lot and working with the Penske shocks has helped make my car better and me a better driver." – Colton Herta
"Penske Shocks have been the Gold Standard in motorsports for years. I raced on them and watching my son race on them now is a great source of pride for me." – Bryan Herta