Penske
8700 SERIES
Autograss

After a period of research and testing we are now able to offer a Penske Racing Shocks kit for your Autograss car. Our kit is specific to Meteor and uses parts from the 8700 and 8760 series to provide a simple to fit, install and adjust package.
SKU : PS-8700
The Penske 8700 Series 3 Way are perhaps the most universal Penske shock available, Penske 8700 Series 3 Way is used in a wide variety of professional racing applications. In its standard configuration, the 8760 is a triple-adjustable, coilover damper. The 3 adjustments are comprised of a high speed compression adjustment, a low-speed compression adjustment, and a single rebound adjustment. The high-speed compression adjustment works with preloaded shims on a piston face while the rebound and low-speed compression adjustments consist of a needle/seat arrangement for a bleed bypass. The reservoir is available in either integral (piggyback) or remote style (with a hose connecting the main shock body to the reservoir). All aluminum body components combine for a lightweight, high-performance damper that can be configured in a variety of ways due to its modular design.
I have used the Penske 8700 Series 3 Way dampers myself and have to say not only do they look exceptional but they perform faultlessly.  Providing such confidence within the car enables the driver to make even better progress.   Knowing that you are using the same make dampers as many F1, Le Mans and NASCAR teams is very satisfying.
Having seen the dampers on our dyno I can also say that the shapes  of graph and adjustment range available are outstanding.  If you ever want to change the handling of your car by making damper adjustment these are the units for you.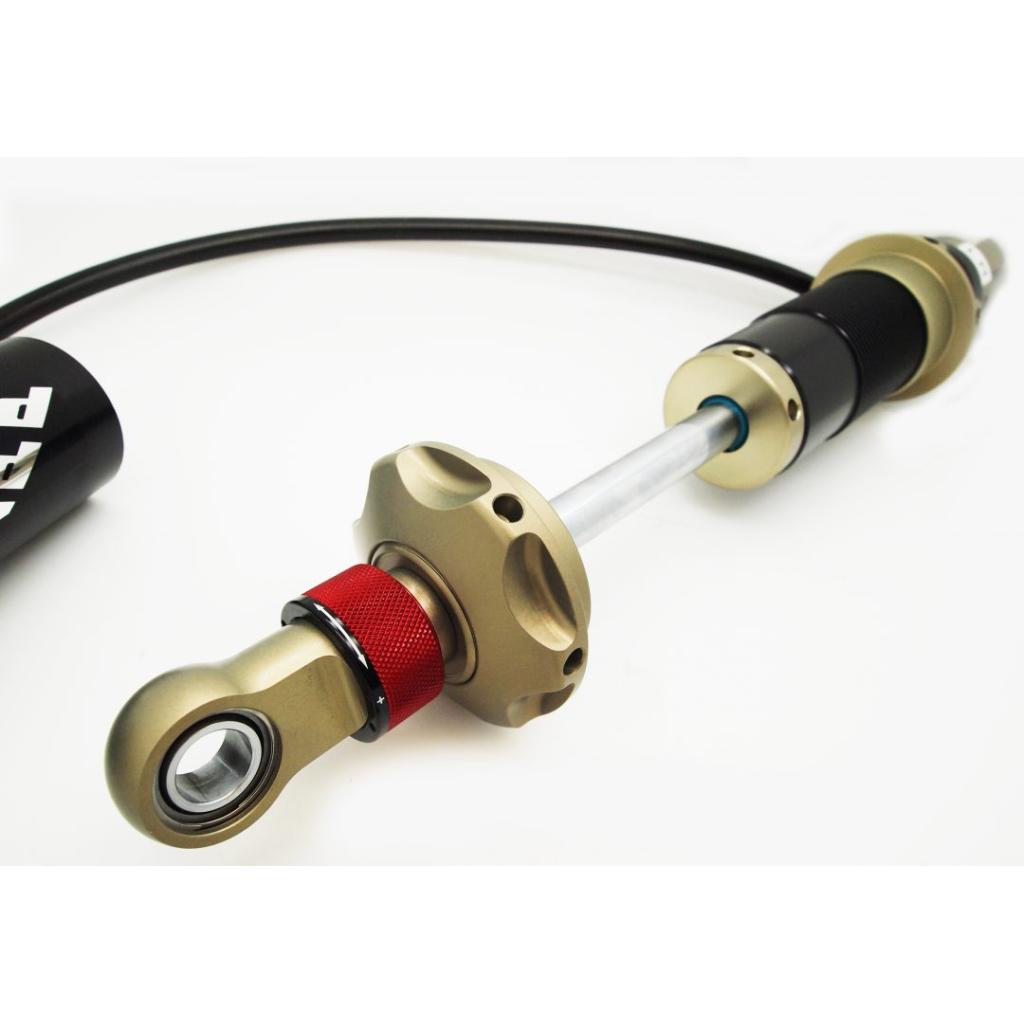 Note: Image used for illustration purposes only. Specific details, finishes and end fittings may differ from exhibited herein.
Front-Wheel Drive
Front Dampers are 16″ open length with a 16″ hose and remote canister.(Option for 15.5″) Rear Dampers ar 18.25″ open length with a 16″ hose and remote canister.  Front and Rear Dampers have digressive high flow pistons as standard.
Rear Wheel Drive
Front Dampers are 16″ open length with a 24″ hose and remote canister. Rear Dampers ar 23.5″ open length with a 16″ hose and remote canister.   We use a linear high flow piston as standard in these dampers but can be ordered with high flow digressive pistons if needed for an additional cost.  The digressive piston offers additional performance on the track.
Penske Advantages
1

Triple Adjustable – 25 Clicks Low-Speed Compression,

2

17 Clicks High-Speed Compression, 80 Clicks Rebound

3

Various Piston Options

4

Built to Customer Specifications

5

Custom-Valved for Driver Feel or Chassis Set-Up

6

Consistent Performance

7

100% Manufactured, and Hand Built in the U.S.A Engineered for your Autograss car in the UK
All the technical aspects can be confusing but we are here to help: