Description
Noble M400 CORE 3 Way Suspension
CORE 3 Way Suspension
3-Way manually adjustable
The 3-Way system is a no-compromise, race-developed suspension system with independent adjustment of rebound and low- and high-speed compression damping. External reservoirs increase fluid capacity to ensure lower operating temperatures when competing in race events. These reservoirs can be remotely situated, piggy-backed or mounted inline. With this system you will experience blistering reaction times, improved bump absorption and a massive increase in grip that will give you the confidence to push your car to its absolute limits and beyond, while still keeping you safe.
The CORE shock is an excellent first upgrade for owners who want improved suspension. Each shock has a damping setting specifically developed for its application, and the spring is selected for the weight and intended use.
The CORE shock is equipped with a separation piston to separate damping oil from pressurized nitrogen gas. As the damping piston is moving in oil only, this creates more stable behavior.
The spring preload can be set for the loading. The preload adjuster has a large adjustment range and supports the highest loads. There are separate High and Low Speed Compression adjusters on the remote reservoir  (Piggy Back or Hose arrangements) and a rebound adjuster.  All the adjusters are standalone and have no influence on each other when adjusted which we believe to be very important when tunning a suspension package.  Every adjustment brings a noticeable change in damping level.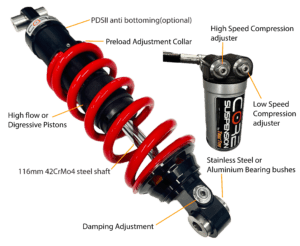 Further still CORE Suspension develops and improves its settings and valving options as an ongoing process. With new piston designs offered by TracTive often at our request we are able to ensure the highest performance and damping for your individual use.
All CORE Suspension kits will come with Eibach Springs as Standard.