MCS 1WNR
The MCS 1WNR damper is a single-adjustable damper with an adjustment range of 18 settings. Built as an "entry-level" (yet still race-capable and winning) damper, MCS 1WNR dampers are upgradable to our other damper systems. The modular design of MCS damper systems use interchangeable parts for an easy upgrades, without the need to invest in a new package. All MCS dampers are fully rebuildable, serviceable and can be custom-valved and upgraded any time.
These dampers are packed with technical features with elegantly clean execution. The monotube design is very stable with more oil capacity and better heat dissipation than twin tube dampers. Large shafts give extremely high, low-friction side-load support unmatched by shocks inverted and converted for strut applications. The large main piston gives quick, accurate damper response and the divider piston separates oil and gas, eliminating cavitation which often causes noise and sloppiness.
The MCS 1WNR damper system rings tremendous value and capability in a clean, easy to install and use package; and for these very reasons, was chosen to be used for NASA Spec E46 and NASA Spec Iron racing series.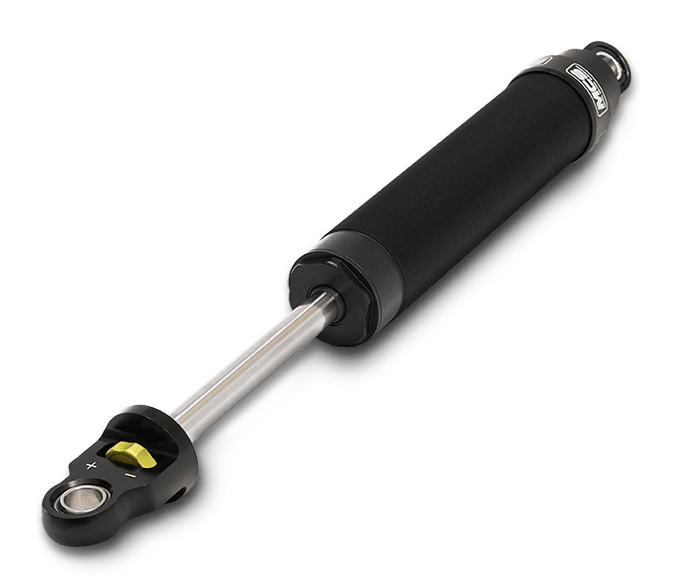 Adjustability
The MCS 1WNR damper is a single-adjustable damper with an adjustment range of 18 settings.
Application specific valving covers a wide range of spring rates and eliminates the need to constantly revalve every time you want to increase or decrease your spring rate. MCS has engineered its adjustment mechanisms so each click can be felt, but never feels like you've gone too far.
18 Clicks of Rebound Adjustment
With 18 clicks of rebound adjustment, the user can easily introduce more spring control or change the balance of the car.
1WNR dampers are built standard with a linear piston and a digressive piston option is available.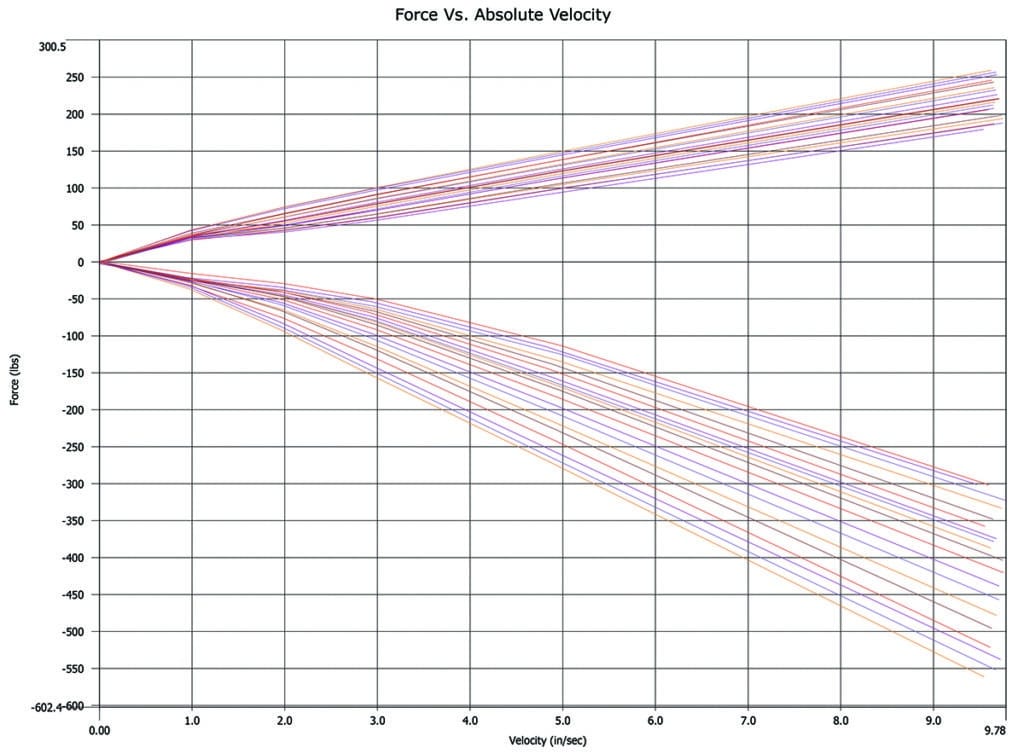 Internal Reservoir
Nitrogen Gas is stored in this compartment and allows for more usable stroke and better control of pressure across dividing piston.
Dividing Piston
Separates the gas cavity from the oil cavity.
Adjustment Mechanism
Proprietary adjustment mechanism to manipulate damping forces.
Main Piston Assembly
Generates overall valving range. Valving can be manipulated by changing the non-preloaded shim stack configuration on the compression and rebound sides of the piston.
Support Piston
Provides additional lateral support on piston end of shaft assembly.
Shaft Guide
Creates additional lateral support on shaft-end side of shaft assembly.
Shaft
Also known as piston rod. Responsible for displacing fluid in the damper body to be controlled by piston assembly and adjustment mechanism. We utilize 22mm diameter shafts for strut applications and 16mm diameter for shock applications on the 1WNR damper system.
Adjustment Knob
Connected to the internal adjustment mechanism and allows the user to adjust damping forces easily.
Why Raceshocks?
Applications custom-built to your specific needs.
Car setups and driving styles aren't the same, so why would the same shocks work for everyone?
They don't!
Buy your Motion Control Suspension from Raceshocks and we'll take into consideration driving style, spring rate, vehicle weight, and type of tracks when setting up your car. This ensures you're getting a custom shock that fits the way you drive.
We can supply any of the MCS products available. Take a look at the full list below. At this time we have only added individual product listings for those cars most popular.
Remember to contact us for Motion Control Suspension (MCS) in the UK.