Motion Control Suspension (MCS) has proven to be the evolution of premium Motorsport damper systems. Our team is continuously developing and refining our damper technology that is vastly different than other manufacturers, developed through hands-on involvement in GT and Touring Car racing.
While our roots are in the highest levels of professional sports car racing, our products excel in all environments, from enthusiastic street driving to auto-cross, track days, to club racing and far beyond. Our dampers are produced from the best materials available. We have created one of the most advanced, reliable and race winning suspension systems in the market today. Our team is proud to offer you these new systems, our proven worldwide expertise and the best customer service in the industry.
Over the past 28 years, we've had quite the journey and have accomplished monumental tasks in Motorsport. Scroll through and enjoy photos of our journey leading up to the creation of MCS, and the milestones achieved along the way.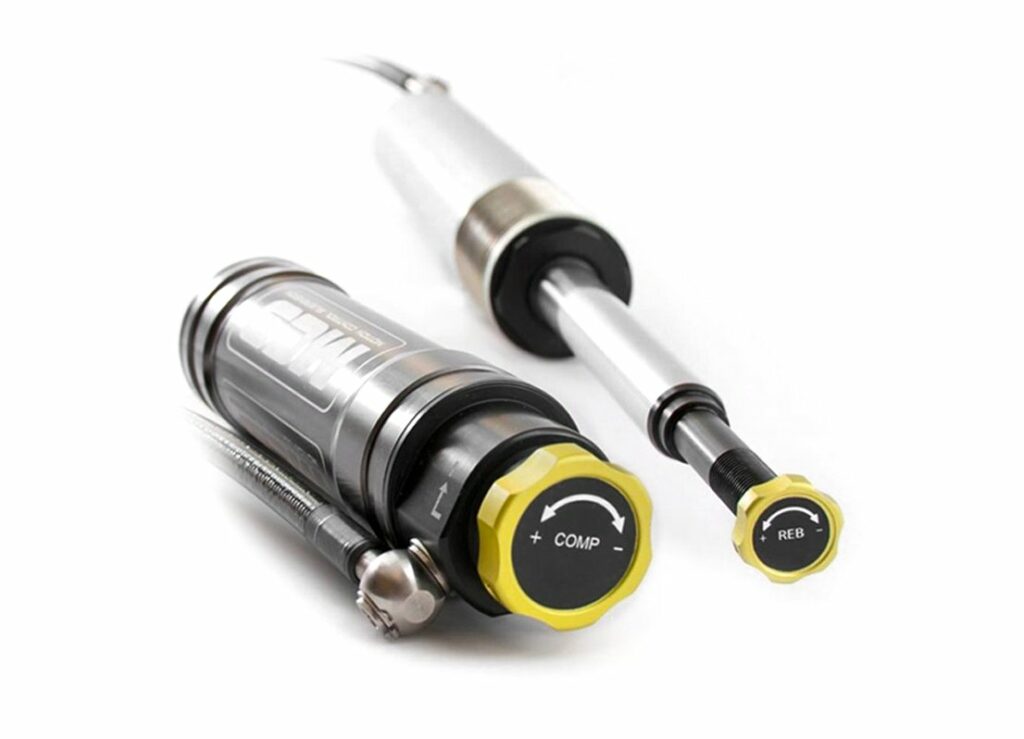 Design Features
MCS offers a range of high-performance shocks to suit your budget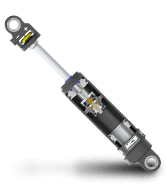 Monotube Construction
Monotube Construction is very stable with more oil capacity and better heat dissipation than twin tube dampers. The large main piston gives quick, accurate damper response and the divider piston separates oil and gas, eliminating cavitation which causes noise, sloppiness, and loss of traction. We use large diameter shafts better displace fluid inside the damper body and give extremely high, low-friction side-load support unmatched by shocks inverted and converted for strut applications.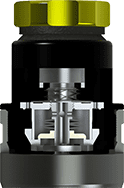 Blow-Off Valves
Blow-off valves are extremely effective in managing high-speed compression hits where shaft speed velocities can create significant increases in compression damping forces. Our proprietary blow-off mechanisms are entirely unique to MCS and minimize a compression strike otherwise applied to a tire, resulting in a large loss of grip and in street applications, comfortable road manners.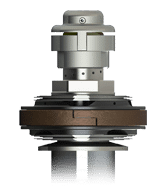 Orifices
Orifices allow for precise hydraulic control of damper oil through the main piston. Utilizing orifices introduces the ability to have a wide operating range, avoiding pesky re-valves, consistency in damping adjustment per click, and virtually eliminates fatigue with usage.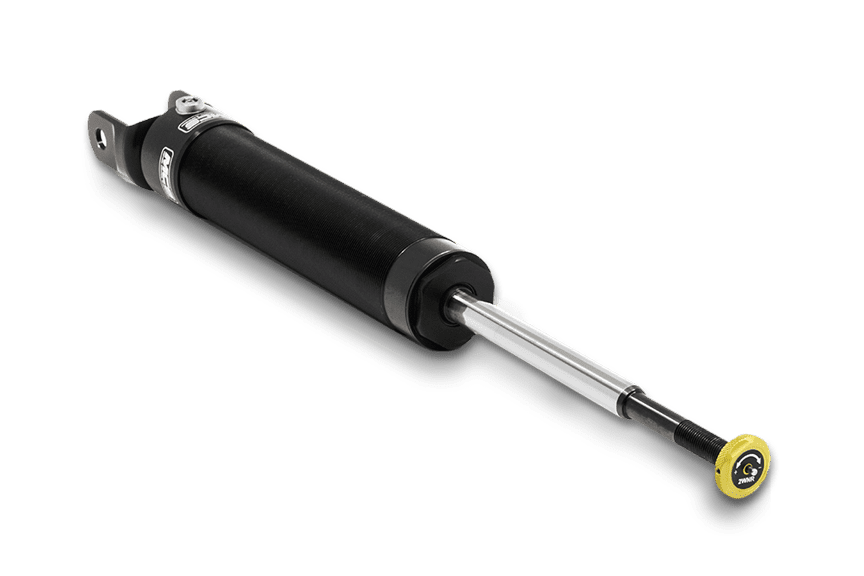 Developed in Motorsport
We've developed our damper technology over the last 28 years in the highest echelons of professional Motorsport. With active involvement in racing, we understand the peculiarities and technicalities of the sport and utilize our experience to continuously refine our systems. Simply put, we "get it"!
Why Raceshocks?
Applications custom-built to your specific needs.
Car setups and driving styles aren't the same, so why would the same shocks work for everyone?
They don't!
Buy your Motion Control Suspension from Raceshocks and we'll take into consideration driving style, spring rate, vehicle weight, and type of tracks when setting up your car. This ensures you're getting a custom shock that fits the way you drive.
We can supply any of the MCS products available. Take a look at the full list below. At this time we have only added individual product listings for those cars most popular.
Remember to contact us for Motion Control Suspension (MCS) in the UK.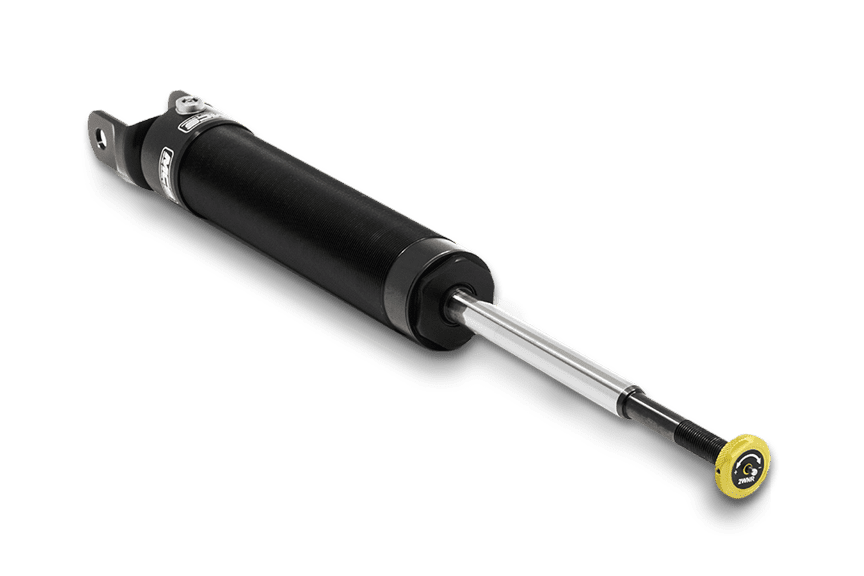 MCS Damper Systems
We offer a broad range of motorsport damper systems that differ in the level of adjustability available to you at the turn of a knob. Our systems are nested into two families, non-remote & remote systems. The non-remote systems package easier while the remote systems introduce benefits that you will both feel and see in your data. All systems are built from the same materials, built to withstand extensive use in motorsport applications.
No matter which MCS system you choose, you can expect to achieve faster lap times, better tire wear, and a system that will grow with you as both driver and car progress. All MCS systems are completely serviceable and upgradable. We maintain a fully equipped service & repair department.
Buyers Guide
A system that is built for you with your goals in mind.
Our systems are used for everything from street cars to the highest levels of professional sports car racing. Whether you are looking to develop more mechanical grip in your race car, or make your sports car both more comfortable and better performing, MCS dampers will deliver. Each user will have a different use for their vehicle, their goals will differ, and the ancillary components that make up the rest of your suspension system will differ, too.
MCS does not offer pre-packaged coilover or clubsport kits. We function on a model where spring rates, lengths, and top mounts are carefully selected after consultation from both MCS and its dealers, ensuring that you as the consumer receive a system that will best suit your needs.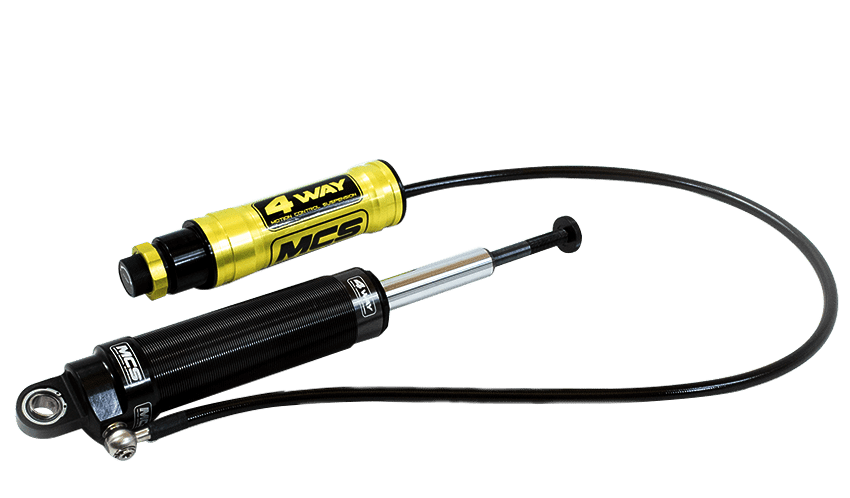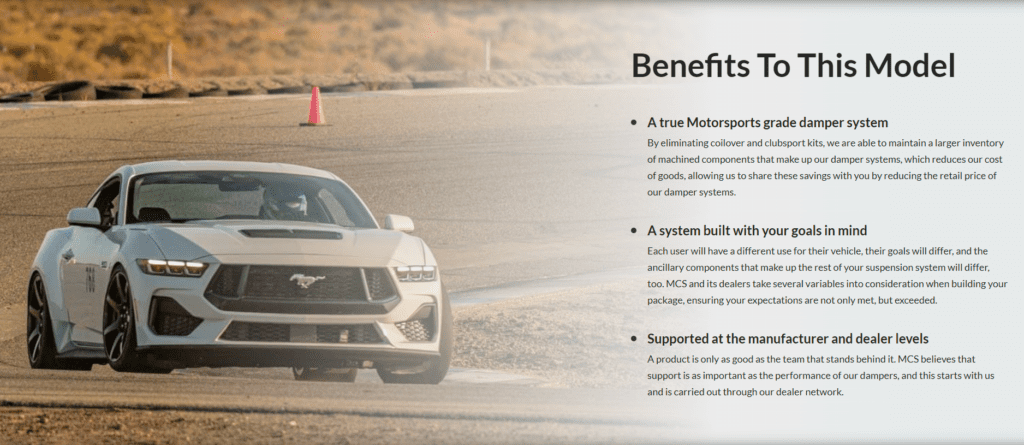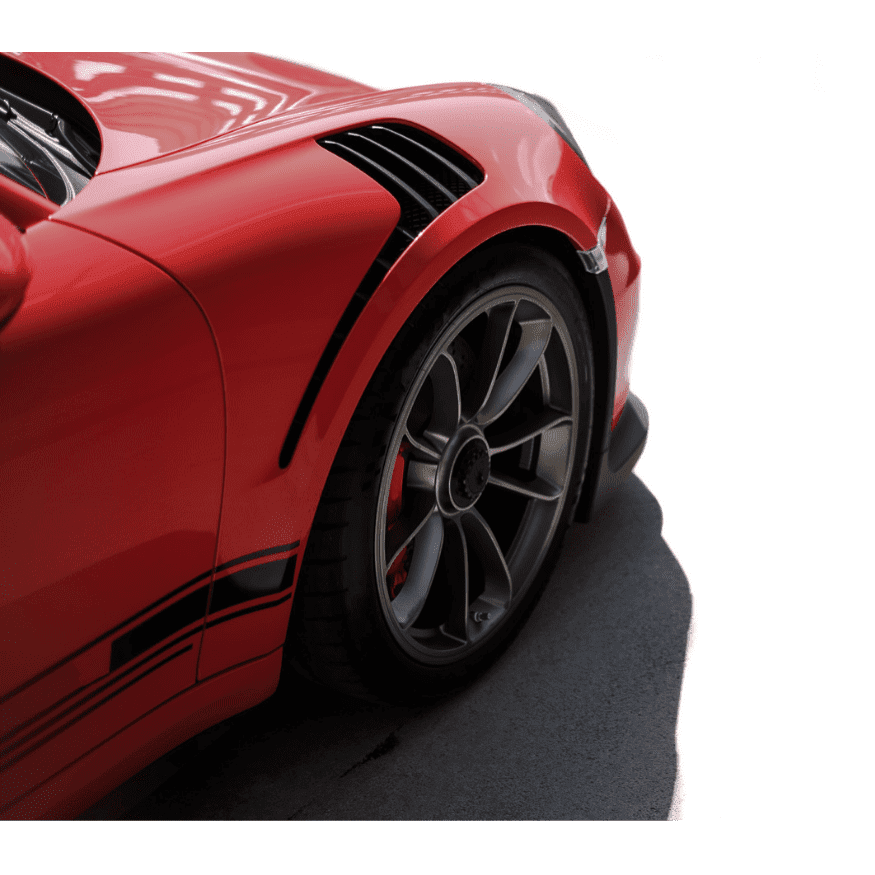 High Performing Individually Specified Suspension
RaceShocks work with you to understand your needs, and design the perfect suspension – tailored to your car and budget.

Trusted when it matters
We provide setup \& performance suspension for many successful CSCC touring car and sports cars, Rally Car, RallyX and Time Attack customers.

Bespoke design
We work closely with our customers \& suppliers, to deliver suspension meets your needs perfectly – whether "off-the-shelf" or bespoke

Passionate experts
We're not sales people. Our team lives and breathes cars. You'll often find us a local race tracks, sharing ideas, watching races and giving advice