MCS – Early Porsche Systems
Air-cooled Porsches have become a popular vehicle in recent times. We've worked with the application regularly over the course of our 28 years and counting, and know what it takes to make these cars handle well. Whether you are restoring your Air-Cooled Porsche, have a resto-mod build in the works, or if you race your car, we have a solution for you.
We offer our full range of damper systems for Air-Cooled Porsches and can convert your original spindles or build you new CNC cut spindles, something only MCS can offer. Our dampers have threaded bodies and can be used with or without coil springs and torsion bars. Damper lengths are carefully designed for your vehicle, with consideration of your wheel and tire configuration, ride height, and goals; this ensures you have appropriate bump and droop travel, and not only meet, but exceed your goals.
These systems are available for Porsche 911 G / Porsche 911 (classic), and Porsche 914 models, including but not limited to:
914 (1969–1976)
O, A and B series (1964–1969)
C and D series (1969–1971)
E and F series (1971–1973)
911/911S (1974-77)
911 Carrera (1974-77/1984-89)
911 SC (1978-83)
912 E (1976)
911 Turbo 930 (1974-89)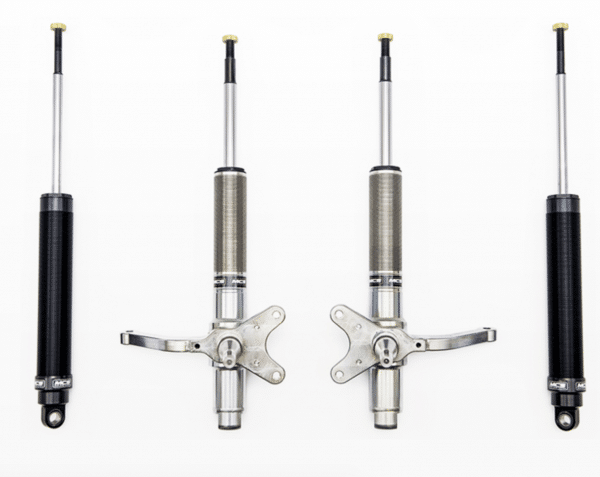 Strut Options
Most manufacturers produce inserts to use in the original strut bodies, and some higher-end manufacturers (including ourselves) have been re-fabricating the original spindles for use with new strut bodies, a service we still offer today. With the gaining popularity of these cars and the shrinking availability of usable donor spindles, we developed a brand new CNC spindle that we are proud to offer you, something only available by MCS. With either option, you have the ability to specify spindle height, body length, shaft-end pin configuration, camber spec, and add bump-steer correction. With our CNC spindle, you can specify all of the aforementioned as well as specify  the brake caliper spacing and spindle thread.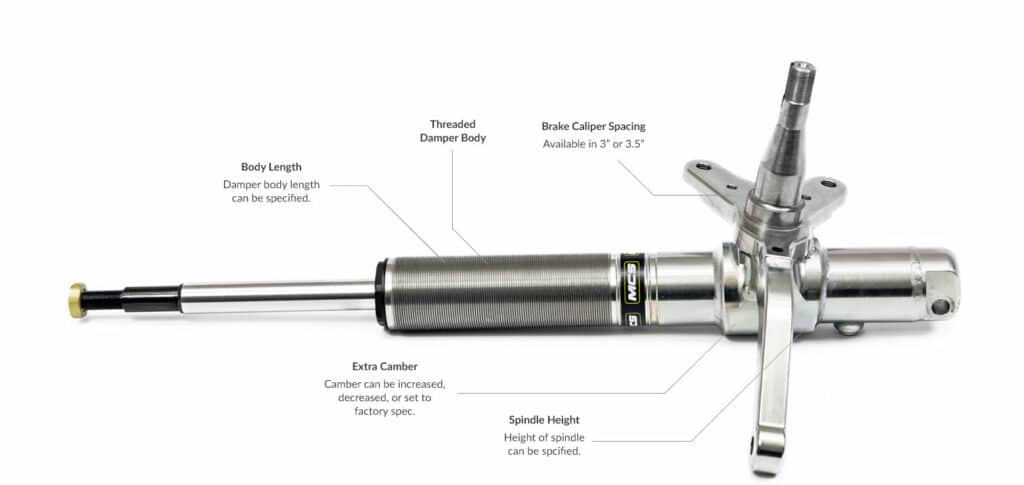 Shock Options
We can build the rear shocks in the original eyelet-to-pin configuration or in an eyelet-to-eyelet configuration for use with a clevis mount. Both options utilize a threaded damper body for use with a coil spring if desired.
Option 1
This damper is built in the original eyelet to pin configuration with the adjuster located at the shaft end, mounted at the upper pickup point.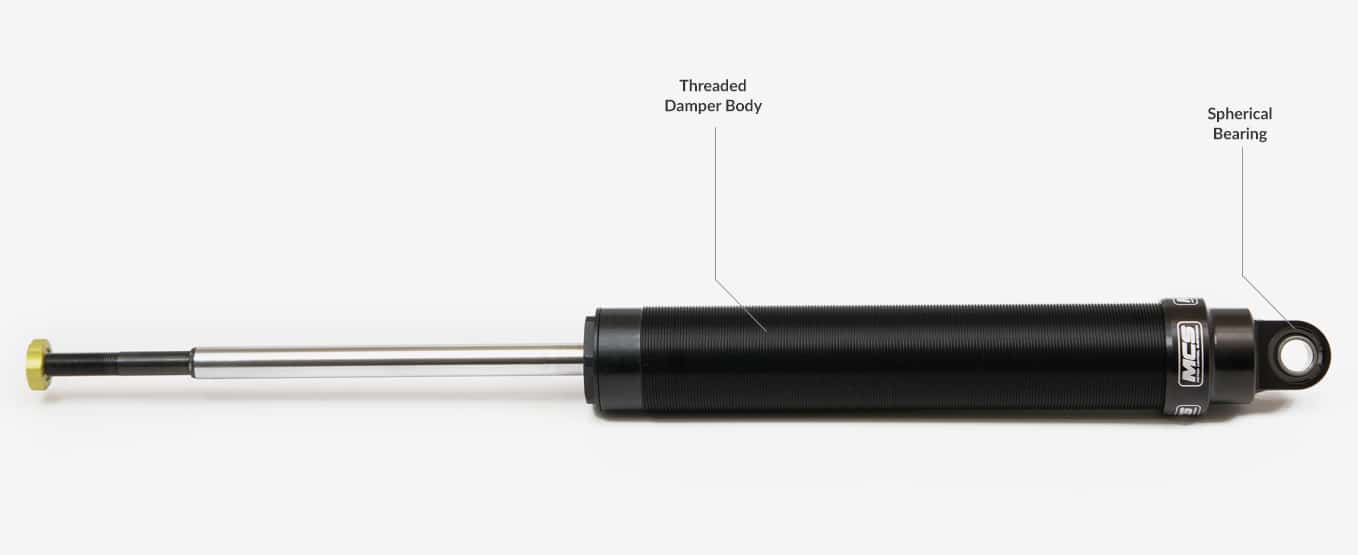 Option 2
This damper is built in an eyelet to eyelet configuration with the adjuster located at the shaft end. This damper can be mounted inverted or non-inverted and is to be used with a clevis mount.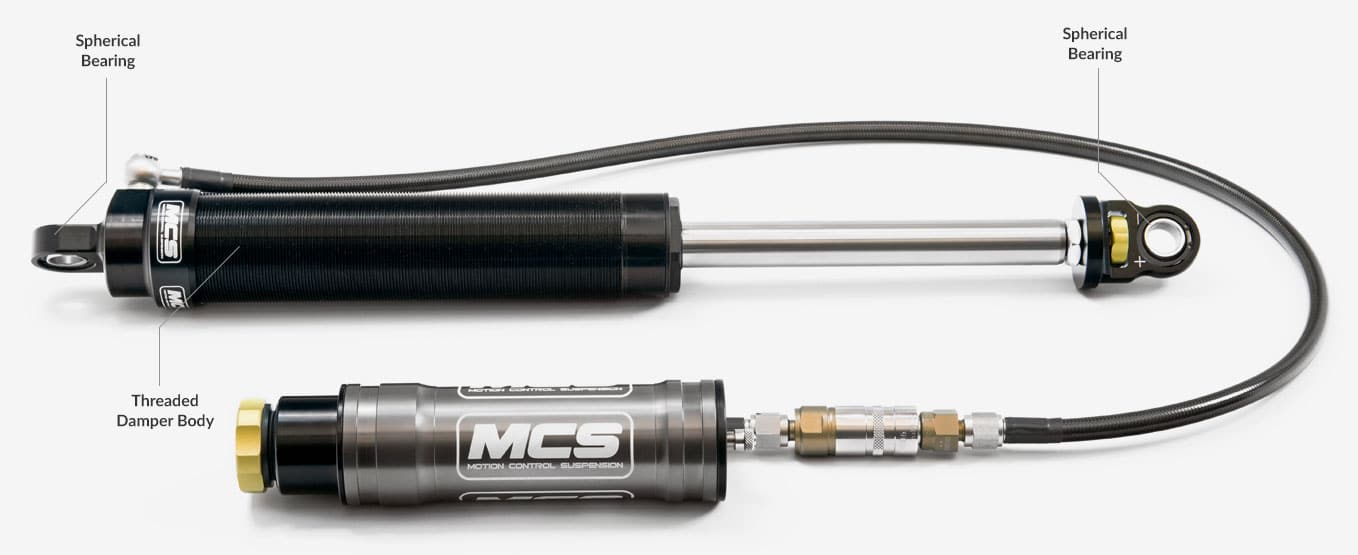 Why Raceshocks?
Applications custom-built to your specific needs.
Car setups and driving styles aren't the same, so why would the same shocks work for everyone?
They don't!
Buy your Motion Control Suspension from Raceshocks and we'll take into consideration driving style, spring rate, vehicle weight, and type of tracks when setting up your car. This ensures you're getting a custom shock that fits the way you drive.
We can supply any of the MCS products available. Take a look at the full list below. At this time we have only added individual product listings for those cars most popular.
Remember to contact us for Motion Control Suspension (MCS) in the UK.