Description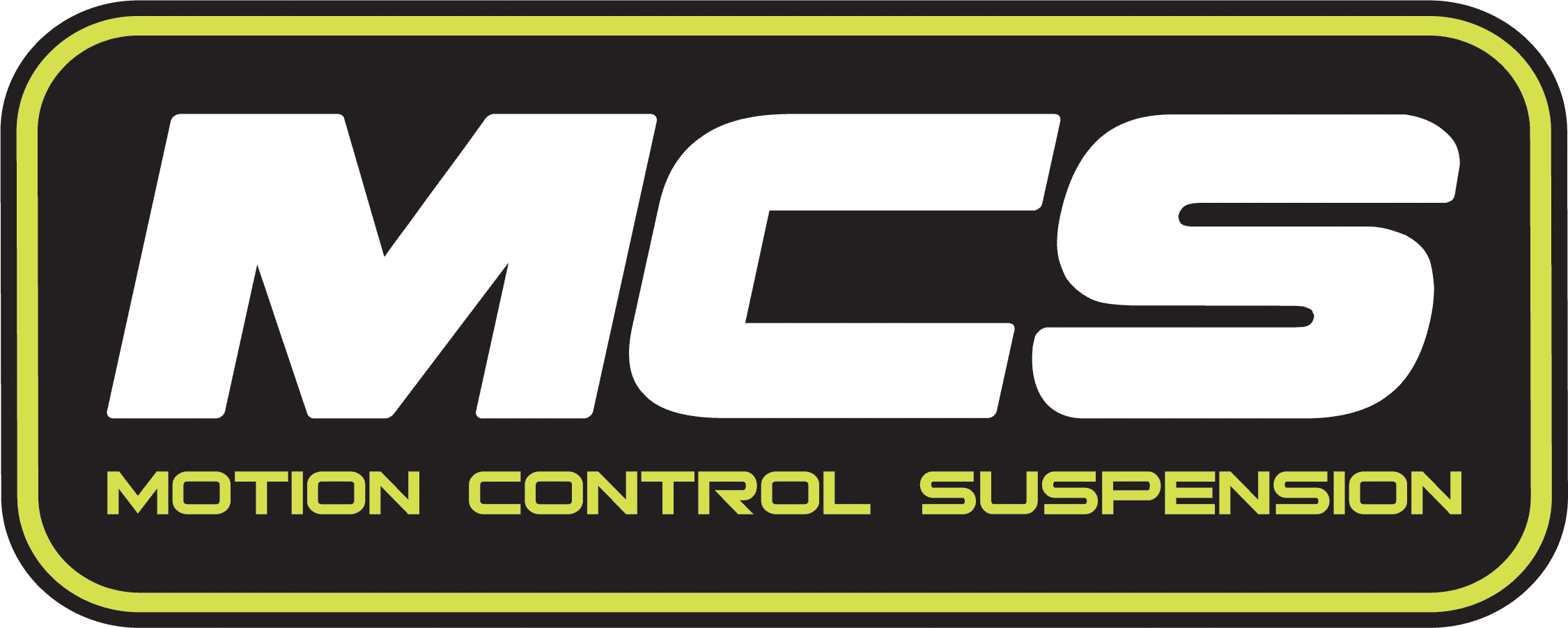 MCS
The MCS 2W damper is a double-adjustable damper with external reservoirs which allow for adjustment of the gas pressure in the damper. Both compression and rebound damping forces are independently adjustable with the compression adjuster located on the reservoir head and the rebound adjuster located on the shaft-end.
Compression damping forces are controlled by a large blow-off valve located directly on the reservoir main piston for the most precise and accurate damping control, and not a needle valve with a smaller effective adjustment range before the needle is too far out of the orifice to influence flow.
Rebound damping forces are controlled through orifices located at the main piston assembly in the damper body and allow for precise hydraulic control of damper oil through the main piston. Utilizing orifices introduces the ability to have a wide operating range, avoiding pesky re-valves, consistency in damping adjustment per click, and virtually eliminates fatigue with usage.
Gas pressure can be adjusted through a schrader valve located at the end of the remote reservoir, allowing you to increase or decrease the overall support to the vehicle. Reservoir pressure can be adjusted between 100 – 275 PSI to help support the platform in fast cornering that generate large loads or allow more weight transfer to generate more traction in low grip scenarios.
These dampers are packed with technical features but with an elegantly clean execution. The monotube design is very stable with more oil capacity and better heat dissipation than twin tube dampers. Large shafts give extremely high, low-friction side-load support unmatched by shocks inverted and converted for strut applications. The large main piston gives quick, accurate damper response and the divider piston separates oil and gas, eliminating cavitation which often causes noise and sloppiness.
Remote reservoirs give superior fluid temperature control and are available (or standard depending on application) with Staubli dry-breaks for easy installation.
Adjustment
The MCS 2W damper is a double-adjustable damper with an adjustment range of 18 clicks of compression and 18 settings of rebound. Application specific valving covers a wide range of spring rates and eliminates the need to constantly revalve every time you want to increase or decrease your spring rate. MCS has engineered its adjustment mechanisms so each click can be felt, but never feels like you've gone too far. 2W dampers are built standard with a linear piston and a digressive piston option is available.
Springs
All MCS damper kits are priced exclusive of springs. We can provide a range of different springs to suit each kit. This is often dependant on availability of the springs. We can offer Hyperco, Eibach and Faulkner. Please budget for £360.00 if 4 linear springs and £600.00 if helpers are required.
Note
Remote systems include quick disconnect fittings for rear dampers. Optional for front.